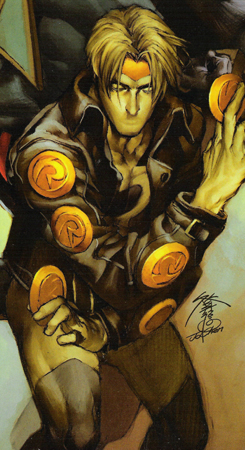 What if Spider-Man had no sense of responsibility, and he started his career in the age of social media? The idea of this series is to take the Spider-Man archetype of the youthful, wisecracking, and agile superhero and turn it on its head. I'd like to take the relatively obscure character "
Ricochet
" and make him the polar opposite of Spider-Man. Instead of a hero motivated by the tragic loss of a saintly father figure, Ricochet would be driven purely by a desire for fame and the lust that consumes all young men. Ricochet would have no crushing guilt compelling him to fight crime, but he would have the crushing boredom that afflicts today's youth that was raised on a steady stream of distractions from screens both high definition and handheld. Ricochet would be what Spider-Man would have been if he became a superhero in the information age and not a time when the internet was just a sci-fi writer's pipe dream.
Unlike Spider-Man, Ricochet is a child of the internet. He's representative of modern young people...he's cynical, jaded, and he has a miniscule attention span. This is why when the series begins, Johnny Gallo has decided to quit the superhero game and go back to college. He's had enough of the idealistic superhero life, and he'd rather go to a university in Los Angeles where he can party with people his own age and chase girls. Yet despite his attempt to live a normal life, Johnny is distracted by a supervillain attack on his way to class, and he can't help but don his Ricochet costume one last time. He does this not because he feels obligated, but just for "the lulz". Ricochet fights the supervillain on the Hollywood Walk of Fame, and in the background, we see aspiring actors and actresses dressed as Marvel superheroes.
In his last outing as Ricochet, Johnny accidentally does what the performers dressed in ill fitting superhero costumes fail to do after years of busking on the Hollywood Walk of Fame...he gets noticed. The superhero group "The Superstars" happens to catch the internet footage of the acerbic Ricochet handling the rampaging supervillain, and they like what they see. This superteam is a group of young LA based superheroes who choose their members not by their specific powers and skill sets, but by how popular they are. They value superheroes with the most Twitter followers and traffic on their websites. The Superstars is a superteam that is a cult of celebrity, and not a pantheon of metahumans like your more traditional superhero groups.
The Superstars invite Ricochet to join their team. At first, Ricochet is hesitant, and he'd rather follow through on his plan to finish college. Ricochet is peer pressured into giving the team a chance, and he goes out with them on a night in the life of The Superstars. He quickly realizes that this team would give him everything he wanted out of college. The Superstars ride around town in a hovering limousine, and they are treated like kings and queens at LA's nightclubs. They party like rockstars, and for the first time in his life, Ricochet gets the lifestyle he always wanted from his superhero career. He has fame as The Superstars fight crime on the red carpet while paparrazi snap pictures, he has beautiful women throwing themselves at him, and most importantly, he has a lot of fun. Despite the fact that The Superstars are like Lindsey Lohans with superpowers, Ricochet thinks he could get used to this. The Superstars appear to be the perfect fit for Ricochet, and he agrees to join the team.
After joining The Superstars, Ricochet transforms into a superhero for the information age. He's on Facebook, Google+, and Twitter. He constantly carries a smartphone that automatically alerts him every time there's a crisis in progress. Ricochet becomes the superhero that Spider-Man would have been if he started his career in an era where a handheld device could notify him of every crime in the city minutes after they occurred. One minute he's leaping across the city to take care of a supervillain attack that he noticed on his Twitter feed, the next he's responding to a text from his teammates and literally bar hopping from club to club in a single bound. Here, we see Ricochet as a young superhero in today's fast paced world where everyone is communicating instantly at the push of a touch screen button. This idea of the social media superhero would allow for a bit of metafiction, and you could have someone tweeting in character as @Ricochet in real life.
Although Ricochet is having the time of his life with The Superstars, he's starting to get a little burnt out. The Superstars compulsively party, and while Ricochet enjoys the LA nightlife, he begins to wonder if they might be pushing it a little too far. He sees that some members of The Superstars have substance abuse issues, and he realizes that there's a certain shallow emptiness to them that unsettles him. Ricochet's a superhero with no sense of responsibility, but even he has his limits.
It's at this point in the story arc that Ricochet does some research on The Superstars. He realizes that they have a track record of fighting C-list supervillains and ignoring what appear to be more important threats. Ricochet confronts the leader of the team about their apparent negligence, and the leader reluctantly reveals the terrible truth about The Superstars: they are funded by the supervillain "
The Answer
". The team's real purpose is to fight The Answer's competitor supervillains and to provide a distraction from the real metahuman crime activity. The Superstars are glorified spectacles that are intended to control the supervillain underworld of LA.
The story arc culminates with Ricochet quitting the team, and The Answer has The Superstars turn on their former teammate. Ricochet has to fight off a team of superpowered delinquents who prefer the life of fame and fortune that The Answer provides them. Ricochet is only one man, and he's almost killed by the highly intoxicated Superstars as he flees through the LA cityscape. However, Ricochet was only stalling the inebriated superheroes, and The Avengers show up in response to his emailed proof of The Answer's involvement with The Superstars.
This series is designed as a self contained story arc, but it could continue as an ongoing if there's enough interest. Ricochet could continue his career as the inverted version of Spider-Man who's motivated not by guilt, but by a desire to entertain himself with his superheroism. This is a superhero who has the agility and wit of Spider-Man, but none of his endless responsibilities and sense of moral obligation. Ricochet could be an information age superhero who chooses the hero's path because it's the path of least resistance to fame and women. Ricochet's motto and the tagline of the series could be, "With great power comes great fame, fortune, and women". After all, aren't those the things that the power hungry are really after?